COMBI: The junction box for all applications
WISKA COMBI junction boxes are easily identified by their well-known bellied cover allowing for more room inside the box and easy installation.
Click here for our COMBI products.
Features of the COMBI series: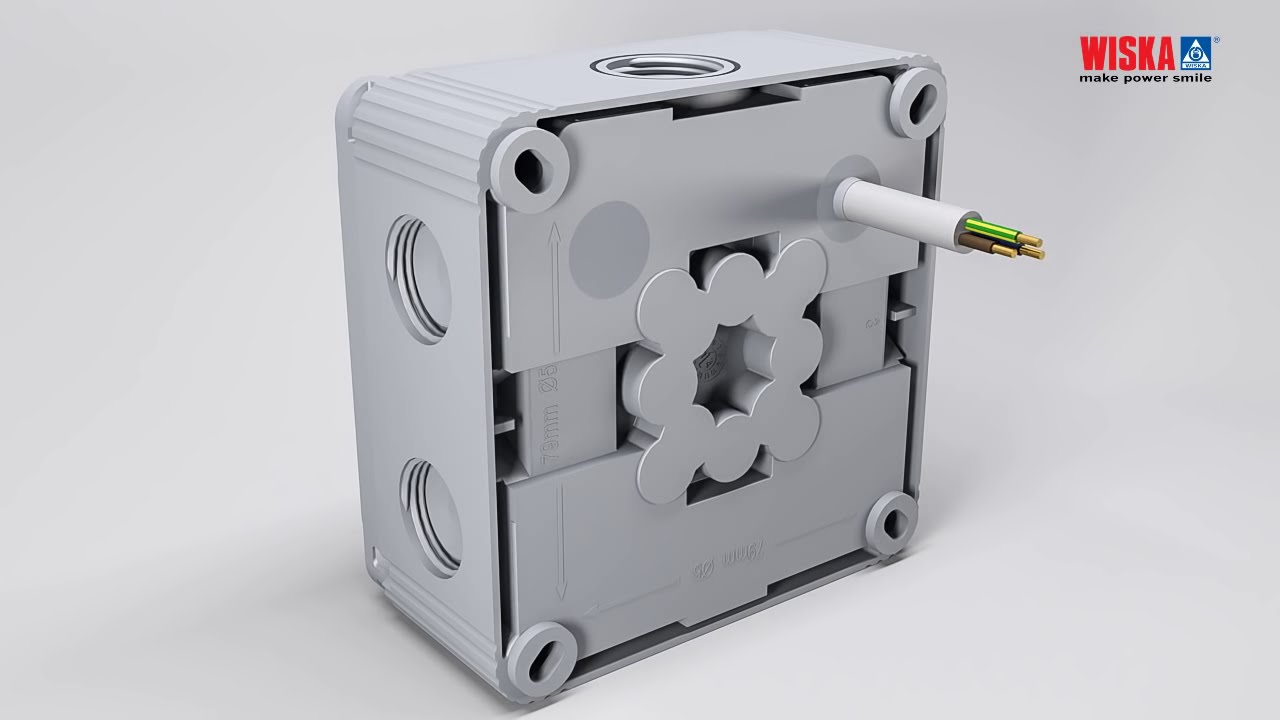 Weather-proof, resistant to ultraviolet, shatter proof, impact-resistant
Ideally suitable for extreme conditions or outdoor installations
Solid thermoplastic housing made out of 2 different kinds of moulding components
Flame-retardent and halogen-free
saving on labour thanks to faster cable entry via soft self-sealing membrane, no further tool required (COMBI 108, 407, 607, 1210)
Self-sealing membrane in the ground enables clean assembly for cable outputs from the wall (COMBI 108, 407, 607, 1210)
Captive and rust-free quick-release lid screws of plastic, closing of the box with only a quarter turn
10 % more room inside thanks to bellied cover
Integrated thread in which cable glands can be directly mounted into - without locknuts. The combination of thread and membrane saves you one further working process. (COMBI 308, 407, 607 und 1210)
Click on the red dots to see the advantages of the COMBI series
Quick and secure closing
Rust-free captive quick-release fasteners: close and seal the box with just a quarter turn
For extreme conditions, indoors and out
Strong thermoplastic housing made from two separate plastic component
Unique design
Ribbed corners and the unique WISKA bellied cover for 10 % more space inside
Protection against moisture and dust
High protection class of IP 66 / 67
Quick installation
Combined threaded and membrane entries for installation without tools or locknuts
Flexibility is strong in this one!
The newest family member completes the COMBI series – the clever solution for junction boxes.
Its external dimensions of 95 x 95 x 60 mm present an additional box size between the COMBI 308 and 607. With its innovative features, including the threaded membrane entries, it offers the full range of all COMBI benefits. New to the product line are also screwless push in terminals for quicker and easier installation. Furthermore all accessories of the COMBI 308 are also available for the 407.
The 6 x M 20 threaded membrane entries combined with the M 20 threaded and middle membrane entry with knockout to M 25 make for maximum flexibility.
The COMBI 407 is a valuable addition for our junction box family.
3-D CAD files can be found in the menue structure below the product picture of each specific model.
COMBI IP 68 SET
Our COMBI junction boxes in the new IP 68 SET offer optimal protection against moisture by a new filling material. Your solution to damp surroundings!
Available for COMBI 308, 407, 607 and 1010
The sealing technique ensures a high life expectancy, even under permanent influence of moisture, ideal for ports and shipyards, car wash plants, tunnels and flooding areas
IP 68 up to a water depth of up to 15 meters and 170 hours according to DIN EN 60529
Usable at temperatures between -30°C and 100°C
Mixing bag solution allows for a professional and clean sealing of the box as well as an easy removal of the filling material, plastic sprue allows for easy sealing
Filling material consolidates after a few minute
Delivery includes: COMBI junction box, plastic bag with fluid, plastic sprue and stop end
Our products of the COMBI series